HAPPY BIRTHDAY FRANK SIGNORELLI!!
BIRTHDAYS
Will always be recalled for his work
with 'The Original Dixieland Jazz Band".
Frank Signorelli was an important player behind the scenes as an organizer of bands and an accompanying pianist with several notable bands. In 1917 with Phil Napoleon, he was a founding member of the

Original Memphis Five

.
He recorded extensively with that prolific group through 1931. Signorelli was briefly a member of the Original Dixieland Jazz Band in 1921 and in 1927 he was in Adrian Rollini's legendary (if short-lived) New Yorker group.
Original Memphis Five - 1923 -
left to right:
Frank Signorelli,
Phil Napoleon, Jimmy Lytell, Charlie Parnelli, Jack Roth.
Signorelli

appeared on many classic records with Bix Beiderbecke, Frankie Trumbauer, Joe Venuti and Eddie Lang during the era plus a countless number with dance bands and backing commercial singers. He was with a newer version of the Original Dixieland Jazz Band (1936-38), worked with Paul Whiteman for a few months in 1938, and played regularly during the 1940's and 50's (including at Nick's with Bobby Hackett) and helped organize the revived Original Memphis Five.
Frank Signorelli, who composed "I'll Never Be The Same," "Stairway To The Stars" and "A Blues Serenade" in the 1930's, only led three obscure record dates in his career: four titles on 08 27, 1926, four more from 1946 with a quintet that included Phil Napoleon and two songs for Stinson in 1950 backing singer Art Gentry. He however did record as a sideman as late as 1958 (with Miff Mole).
1902
Sylvester Ahola, Trumpet
b. Gloucester, MA, USA.

Biography
With a name that sounds like an exclamation that is half Hawaiian, half Spanish, Sylvester Ahola was a '20s New York studio trumpeter who was conscripted to play in British jazz bands and never really back across the pond professionally. He was known as "Hooley", came from a Finnish family and began playing drums at the ripe age of six, graduating to blowing cornet and trumpet a few years later. He would continue doubling on the two horns throughout his career, becoming known for a vivid soloing style that put him in the same technical league as much more famous trumpeters such as his two main models, Bix Beiderbecke and Red Nichols. Ahola cut his first recordings under the auspices of bandleader Frank E. Ward in 1924, but these tracks were never released commercially. The trumpeter then joined Paul Specht's Orchestra in the outset of 1926, staying in this group a year before joining the Ed Kirkeby band. Ahola then made his earliest recordings of any notoriety with the California Ramblers. From here he stayed with Peter Van Steeden's orchestra until late 1927 when he was hired to sail to England and play with the Savoy Orpheans.

This may not have been a job with a bearded lifespan, but the accomplished Ahola had no trouble finding trumpet-blowing gigs all around London. His talents included the ability to lead a horn section as well as blow good solos. Ahola was heard in the Jack Harris band before picking up a somewhat more high-profile trumpet seat in the Ambrose Orchestra in late 1928. Throughout the late '20s he was frequently working in recording studios, cutting sides with the studio bands at labels such as Zonophone, where he worked with the conducting brothers Bert and John Firman. He also collaborated with music director Arthur Lally at Decca sessions. He remained with Ambrose into the summer of 1931, a job that like the various studio bands featured a mixture of British, European and American players.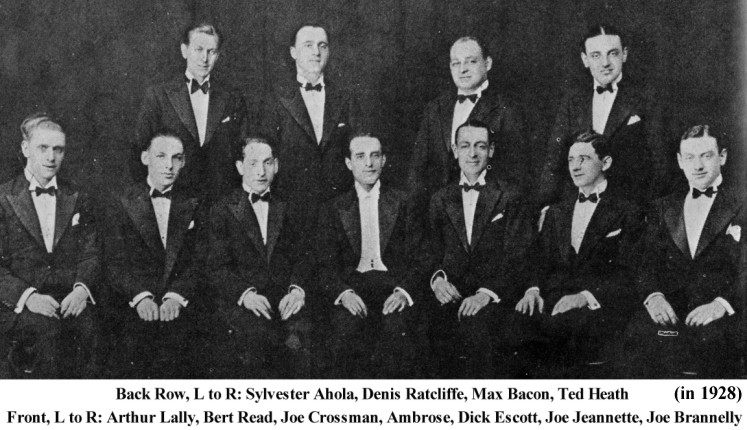 The same players overlapped on a half dozen band busses. Americans such as guitarist Joe Brannelly and reed player Perley Breed joined up with Ambrose at the same time as the British jazzman Ted Heath. Also in 1928, Ahola was playing with Reg Batten and his New Savoy Orpheans with Irving Brodsky on piano. In 1929, Ahola was featured with Ray Noble and His Orchestra the trumpet feature "Copper Blues" one of the only forms of copper that doesn't leave a bad taste in the mouth. In 1931, the trumpeter showed up back in the United States in order to play with Van Steeden once again.
A few recording sessions with Ed Kirkeby in the early '30's represent his the last brass words reserved for posterity, an Ahola that pretty much means aloha. He joined the NBC staff orchestra along with colleague Jacques Renard and continued with this type of work until retiring in 1940. At this point he returned to his home town on the New England seaside, becoming so closely associated with the town that he became known as the "Gloucester Gabriel." He played both trumpet and percussion with the Cape Ann Symphony Orchestra in his final years. Aloha's best recordings include the tracks "So Does Your Old Mandarin", a frightening pun, and "Crazy World, Crazy Tune", an invitable conclusion. The second of two Rhythmic Eight reissues on the Mello label has a whopping portion of top form Ahola, fine examples of the trumpeter's work in tandem with arranger Lally. A biography of Ahola was published as part of the Studies in Jazz from the Institute of Jazz Studies, Rutgers State University.
Sylvester Ahola
1919
Herbie Fields, Clarinet
~Biography
by Ron Wynn
Fine swing era player who wasn't able to fully switch over to bop. Fields attended Juilliard from 1936 to 1938, then played with Raymond Scott, Leonard Ware and Hot Lips Page. He led a band at Fort Dix while in the army during the early '40s.
F
ields joined Lionel Hampton's band after his discharge, working with him until 1945 and recording at Carnegie Hall. Then Fields led small groups and big bands from 1944 until 1950, winning Esquire magazine's "New Star" award in 1945 on alto sax and later recording with Miles Davis. Fields career declined in the '50s, and he began making straight pop music, moving away from jazz
.
Herbie Fields - Wikipedia
Notable Events Occurring
On This Date Include:
Art Kassel's orchestra recorded
"So You Left Me for the Leader of a Swing Band".
(Bluebird label).
Songs Recorded/Released
1923


Rosa Henderson -
Good Woman's Blues
- Piano accompaniment by Wendell P. Talbert
Family Trouble Blues
Trifflin' Man
Joseph C. Smith's Orchestra
Now That I Need You, You're Gone
Stella
1924
Naylor's Seven Aces -
Driftwood
Ted Lewis and his Band -
June Night
1926


Fess Williams and his Royal Flush Orchestra
Make Me Know It

- (singing by Fess Williams)

My Mamas In Town


Ruth Etting - Lonely Little Bluebird



Paul Whiteman and his Orchestra
1929


Irving Mills' Hotsy-Totsy Gang -
St. Louis Blues
Irving Mills' Hotsy-Totsy Gang
-
What A Night
Lonnie Johnson - It Feels So Good - Part 3
Limehouse Blues
And those weird China blues
Never go away
Sad, mad blues
For all the while they seem to say
Oh, Limehouse kid
Oh, oh, Limehouse kid
Goin' the way
That the rest of them did
Poor broken blossom
And nobody's child
Haunting and taunting
You're just kind of wild
Oh, Limehouse blues
I've the real Limehouse blues
Can't seem to shake off
Those real China blues
Rings on your fingers
And tears for your crown
That is the story
Of old Chinatown
Rings on your fingers
And tears for your crown
That is the story
It Feels So Good
- Part 1 (1929)
I feel so good, I feel so good … [spoken, falsetto]
Way down yonder in Dixieland,
The folks goin' crazy 'bout the jug-o band.
Because it feels so good, ah, it feels so good, ah.
Everybody's doin' it 'cause it feels so good.
The monkey and the baboon playin' in the grass.
The baboon said no but the monkey said yes.
'Cause it feels so good, ah, it feels so good.
Ring around your ringtail, 'cause it feels so good.
Sister Kate and Mother Mo,
Shoved that shimmy across the floor.
Cryin' it feels so good, ah, it feels so good.
Yeah, and shouting, Lord, it feels so good.
Boy it feels so. [spoken, man's voice]
Yes it feels so good. [spoken, falsetto voice]
Ah, you know it feels so good. [spoken, man's voice]
Ah, now it feels so good. Ah, play it now, Lonnie, 'cause it feels so good. [spoken, falsetto voice]
Said the chick when she eat the worm,
It make me wiggle when it starts to squirm.
I like good bait, 'cause it feels so good.
Stand aside and let Mama pass,
I got to switch to my "sparrow grass."
'Cause it feels so good, ahhh, it feels so good.
Yeah, spare me a limb, honey child it feels so good.
The funniest thing that I've ever seen,
Was a "wompass cat" with his eyes are green.
Cryin' it feels so good, ahhh, Lord, it feels so good.
Gonna tell the world, that it feels so good.
brought to you by...
Save
Save